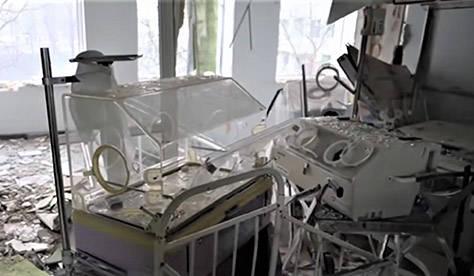 By: James C Johnston
GlobalNeurology® Collaborating to Aid Ukraine
The Russian invasion of Ukraine continues, with thousands of casualties and destruction of numerous hospitals and clinics, leaving the remaining medical services overwhelmed, understaffed, and without necessary medications, supplies, and equipment.
Essential medical services have collapsed, with available care necessarily refocused on war related injuries, jeopardizing the management of non-communicable diseases (NCDs) such as neurological conditions, cardiovascular disease, and cancer. Maternal healthcare, ante-natal care, and pediatric services are absent or limited in most areas. The fighting, loss of medical facilities, and security concerns severely limit access to primary care, and the remaining tertiary hospitals are inaccessible to most of the population. Access to basic medication such as insulin and anti-epileptic drugs is severely curtailed or non-existent.
These healthcare disruptions combined with war conditions including population displacement, food and water insecurity, and loss of infrastructure increase the Ukrainian population's vulnerability to communicable diseases such as Covid-19, measles, polio, respiratory infections, and gastrointestinal illnesses such as cholera. And now, supported by the CCP, Russia threatens potential chemical, biological, and nuclear exposure.
The lack of security currently restricts WHO and other NGOs, but there are logistics emergency centers in Poland and the Czech Republic with volunteer services providing ground transportation of limited supplies into the country. WHO country offices in Poland, Hungary, Romania, and Moldova are working with the local Ministries of Health to address the needs of refugee arrivals, already exceeding 6 million as of May 2022.
In coordination with UN partners and NGOs such as Global NeuroCare®, WHO will continue to implement comprehensive measures for this catastrophic situation.
GlobalNeurology® is taking an active role by:
Advocating on behalf of Ukraine at the World Health Organization and United Nations
Liaising with Ukrainian neurologists to coordinating donation of critical medical supplies
Offering telemedicine support through NGO partners and local physicians, and in neighboring countries to address the needs of refugees with chronic neurological conditions

Please donate to help Ukraine.

We are happy to provide a list of desperately needed equipment and supplies – a list created by our Ukrainian neurology contacts, so we provide exactly what is most helpful for them.

Please send any equipment or supplies directly to our Ukrainian contacts serving as logistics coordinators – Razom (razomforUkraine.org), which ships by Meest airlines to Poland, then trusted contacts transport into Ukraine, and team4Ukraine.eu, which distributes throughout Ukraine. Sending to GlobalNeurology® will delay transport, as we do not have sufficient storage capacity for the amount of supplies being donated, and anything we do receive is re-directed to Razom.